Studio House of Parliament
The Studio House of Parliament reports daily from the Swiss capital of Bern for all SRG SSR radio and television services.
With our state-of-the art media studios, we provide parliamentary and regional correspondents working for the five SRG Enterprise Units with the infrastructure they need.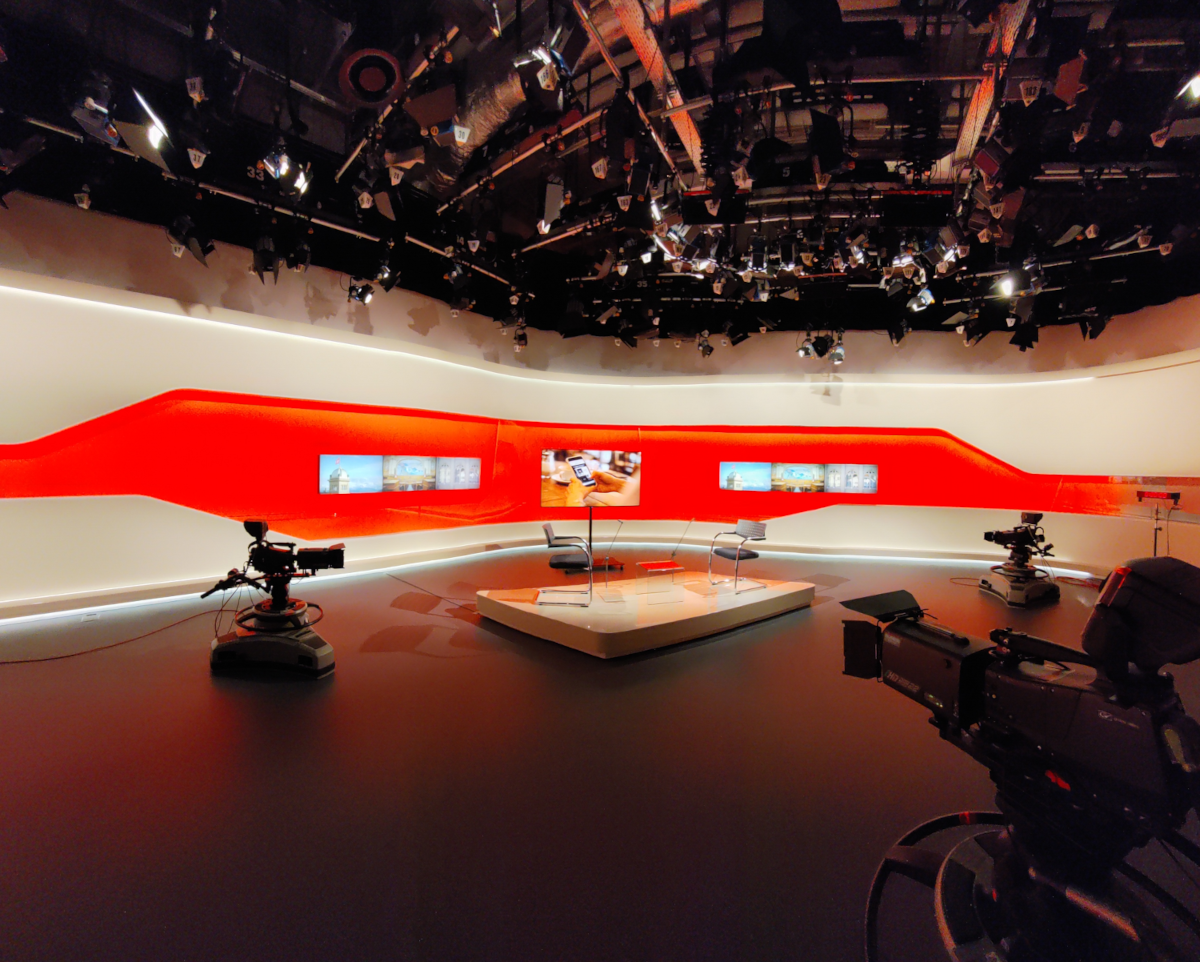 Politics provide content
Federal and domestic politics are at the heart of our reporting. Meanwhile, our regional correspondents provide coverage of the Bernese Oberland and the cantons of Freiburg, Jura and Valais.
Parliament and government
The Studio House of Parliament records all debates held in the National Council and in the Council of States. Coverage can be followed live on www.parlament.ch when parliament is in session. Federal Council media conferences are also recorded and made available on the internet at www.tv.admin.ch.
Up-to-the-minute
We produce items for news and current affairs programmes, as well as live programming. We record the press conferences of governmental departments, as well as information from parliamentary committees, parliamentary groups and political parties. When they deal with federal politics, the political talk shows broadcast by the Enterprise Units are also often produced here in Bern.
Remit
Ensuring coverage
As a national service provider, the Studio House of Parliament looks after around 35 parliamentary correspondents from RSI, RTS, RTR, SRF and SWI. In addition, with its technical services it ensures that political events in Bern and the surrounding area are covered for radio, TV and online media in all four national languages.
Host broadcast partner for the Swiss Confederation
As a production partner to the Federal Administration, the Studio House of Parliament records all debates in the National Council and Council of States. It also covers all Federal Council media conferences for the Federal Chancellery. The parliament and the administration publish these recordings internally and externally, and also provide them free of charge to all media.
Services
National studio
The television studio at the Media Centre has a strategic function. It serves SRG SSR Enterprise Units as the venue for programmes such as «Classe Politique», and it also provides an emergency studio in the event of a total breakdown at the broadcast centre of one of the SRG Enterprise units.
The ultramodern television studio has a stage area of 230 square metres and is ideally equipped for both TV productions and broadcasts. The studio control room is fully integrated into the production environment of the Studio House of Parliament. This control room can also be used to produce programming on external stages, such as the Bundesplatz square in front of the Federal Palace, and the Wandelhalle or Bernerhof government event venues.
We also offer a smaller studio which is used jointly by the SRG and private Swiss TV broadcasters. There is a goods lift for set and props, direct from truck to studio. Small studio productions can be dealt with at short notice on request during our daily production times.
For larger productions, please ask us for a quote.
TV studios with two-way (duplex) connections
TV studios 1 to 3 have two-way (duplex) connections and are available for all two-way news broadcasts. They also serve as backup studios in case of a total breakdown at an SRG Enterprise Unit broadcast centre.
A person taking part in a live daily news broadcast may well be speaking from one of our duplex studios. These offer the perfect conditions for live input. One or two interviewees can be linked from here to any other studio in the world.
Using blue or green screens along with our two-way communications technology means that we can create a wide range of backgrounds – be they live images from the Federal Palace, the media conference room, or the National Council and Council of States chambers, or graphics or VT. All duplex studios also offer an autocue system, allowing the presenter to maintain eye contact with the audience while reading a text appearing on the camera screen.
In and around the Parliament building the Studio House of Parliament has installed over 50 terminals (video, audio and IT) which are connected directly to the studio. All of these terminals permit simplex and duplex communication.
Radio studio
The Studio House of Parliament operates six fully-equipped radio studios for the SRG Enterprise Units. The studios are used to provide radio coverage from the Federal Palace. This includes parliamentary sessions, media conferences, political events at the federal level, and state receptions, as well as for reporting from the Bern area.
The Studio House of Parliament provides the following services
Radio coordination and logistics coordination between the Enterprise Units
Provision of radio production facilities
Guest hospitality for programmes produced by the Enterprise Units
Training planning and coordination for sound engineer deployments
Deploying sound engineers in the Bern area outside the Media Centre (e.g. in the Federal Palace) for the production of radio programming
The studios are designed with intuitive technology, but are operated with support from a sound engineer depending on the complexity of the programme. The RTS studio also offers a webcam.
Outside broadcasts
There in no time
In collaboration with internal and external partners, we can design and produce outside broadcasts for you, be they straightforward to-camera simplex broadcasts or full productions requiring mobile editing facilities and live uplink (LiveU), or even a satellite uplink truck (SNG).
Always ready
Be it an avalanche or flooding, a party conference or elections of the Council of States that you wish to report on, we can help you with our experience and expertise. Give your production the finishing touch with authentic images. We will plan and coordinate outside broadcasts for you and will also provide production managers if necessary. Our coordination hotline means that we are available to you 24/7.
ENG (Electronic News Gathering)
The Studio House of Parliament has its own ENG crews. We also have agreements have with external companies to hire further crews when needed.
All crews are equipped with XD CAM HD cameras.
Editing
Our daily business is producing news for all SRG Enterprise Units of SRG SSR. In our edit suites we put together new and archive footage with graphics to create broadcast-ready items.
The Studio House of Parliament runs a total of six video edit suites at the Media Centre. Federal parliament and regional TV correspondents benefit from a networked production environment. From their workstations, they can view the entire library of footage that is stored on our server.
They can also edit items independently and send them direct for broadcast or on to our own editing suites for further editing. Each edit suite has access to the newsroom systems of their particular Enterprise Unit.
Finished items can be given voiceovers within the edit suites themselves.
Graphics
The Studio House of Parliament provides parliamentary and regional TV correspondents with a video graphics that are integrated into the production network. The following animated graphics are available for items produced in Bern: Infographics, statistics, charts, explanatory pieces, maps, text panels and additional video graphics for news broadcasts. The graphics are based on the templates and requirements of the individual Enterprise Units, editorial teams and programmes. In addition, elements from other media are reworked for our own items. These include online videos, websites, articles from daily newspapers and press releases from the Federal Palace.
Video and document archives
The Video archives hold and catalogue video material originating from original Studio House of Parliament ENG productions. These are images of political events at the federal level, as well as general illustrative images required for further use as motifs for specific issues. Video shoots are commissioned to fill gaps.
Only material which is of relevance to federal government policy is included in the permanent archive. Other historical material is maintained within the Enterprise Units, as are the final broadcast items.
The Video archive also researches and provides raw video for further usage. This service is able to use online research to obtain video images from the regions.
The Documents archive maintains the server for ENG materials, as well as material provided by the regions, and archive material. The Documents service collects documents on federal policy issues in Italian, French and German in a single database. It prepares them and makes them available to journalists. The documents concerned are media releases, reports, studies and fact sheets, which are published by the Federal Administration, Parliament or stakeholder groups.
The second main task of the Documents service is to conduct research on current affairs in the three national languages, and to maintain electronic files over the long term. These files may be consulted by all SRG journalists from their workstations.
Production engineering
The MIP (Media Ingest Playout) is the technical heart of the Studio House of Parliament. All incoming audio and video signals are digitised, managed and played out from the central video server.
The MIP also operates the elements and routers feeding in to the SRG network. The MIP manages the central image server (database management, metadata management, system monitoring, production monitoring) and coordinates and prioritise overdubs.
Coordination
Coordination Coordination organises all aspects of the Studio House of Parliament's work. It determines what volume of orders is allocated where, and also oversees processes, from preparation to invoicing. It also handles operational HR planning, including how many staff are to be deployed where, and according to what schedule, for the entire staff and all production facilities.
Coordination handles enquiries, checks the availability of facilities and personnel, and plans their medium and short-term use in accordance with applicable regulations (working hours, etc.). Using defined criteria, it plans all Federal Parliament Production Centre productions, and ensures that commissions are completed on time.
Coordination has a front desk (reception, telephone), enters all core data for technical production, and coordinates news in collaboration with the SRG Enterprise Unit editorial teams. In addition, Coordination organises and plans the broadcast of Federal Councillor addresses on television and radio in accordance with the requirements of their departments, and in consultation with line managers and editorial teams.