Quality for everyone
Quality is essential to SRG's programme production. Thanks to our excellent standards and financial and political independence, our programmes reach 94 % of the Swiss public and enjoy a high degree of credibility. Quality is a public service.
In our programmes, we provide a counterpoint to the global trend towards the rapid dissemination of information and rumours that are often insufficiently checked. All of our journalists are committed to upholding our guiding principles (credibility, independence, diversity, creativity and fairness) and abide by our journalism charter in carrying out their work.
SRG is the only media company that produces audiovisual programmes in all four of Switzerland's language regions and in all Swiss national languages. We provide our services for the entire population, so they are geared towards the needs of people with a variety of requirements. We ensure that everyone can access our programmes, including people with sensory disabilities, those from different multicultural backgrounds and those in regions where we can only offer a full service thanks to cross-regional financial equalisation.
We aim to unite people across language barriers, regional borders, social groups and generations.
Various bodies keep a watchful eye on us and monitor our activities:
Checks are carried out both internally and externally.
Quality as a process
Quality is not a state; it has to be constantly regenerated. We have developed tools to measure, control and monitor our programme quality. Staff suggestions and proposals help us to enhance quality management in practical terms. We maintain a close dialogue with colleagues from other countries and from the research community.
And the public are also an important yardstick – the five Public Councils monitor programmes critically and independently. The public's opinion is sought even outside these councils, for example in group discussions on programme development. There are also numerous external control bodies that oversee our work and make suggestions for improvements: OFCOM and DETEC check whether legal principles are being fulfilled. As a policing body, the Swiss Press Council supervises the quality of public radio and Swiss journalism.
The five Ombudsman's Offices mediate in the case of any complaints from the general public regarding our journalistic services. If anyone is not satisfied, they can then submit a complaint to the Independent Complaints Authority (ICA), which will conduct legal proceedings.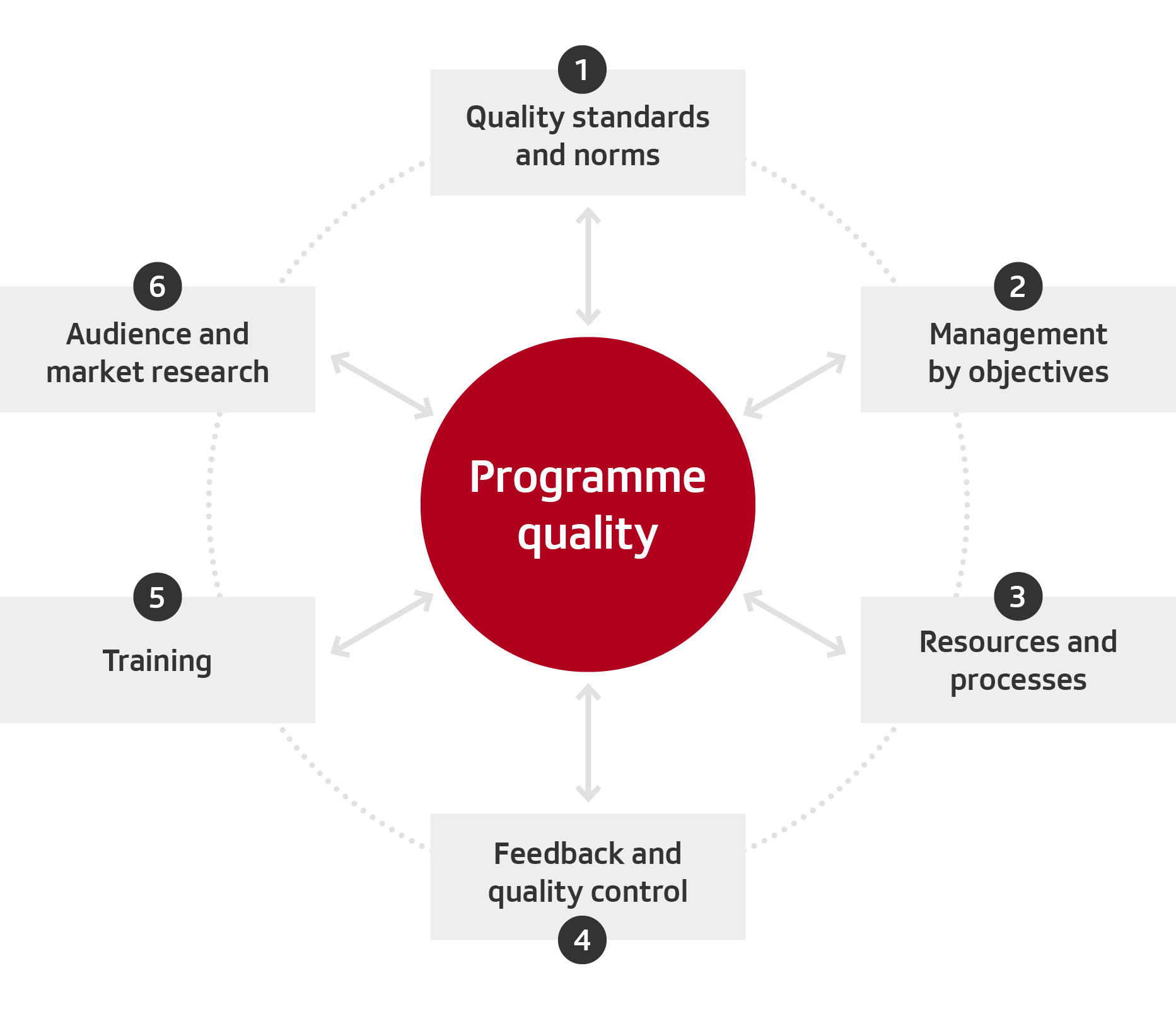 Our quality management system is based on six pillars:
Quality standards and norms: key rules are defined and can be referenced in manuals or guidelines.
Management by objectives: targets are defined, agreed and monitored for staff as well as for programmes.
Resources and processes: workflows and processes for recruiting and appointing staff are clearly defined.
Feedback and quality control: systematic feedback is provided and quality checks are carried out. The findings from these are incorporated into editorial processes.
Training: the training available includes sound education and professional development, individual training programmes and specific programmes for managers.
Audience and market research: records are kept of the audience figures for particular programmes and how they are received. Feedback from surveys is passed on to editorial teams so they can continuously improve their planning.
SRG's internal and external supervisory bodies
We are systematically supervised by many instances, and the public have opportunities to have their say, via internal monitoring bodies with access to the ownership structure or via external monitoring bodies such as the five SRG Ombudsman's Offices and the Independent Complaints Authority (UBI).