Sport for everyone
Sport captivates us and stirs our passion and emotions. Sport unites people regardless of their language, culture or background. Sport is a public service.
Switzerland: a sporting nation
75 % of the Swiss population follow what is happening in the sporting world through the media.1 That is why sports programmes are particularly popular and regularly achieve high audience ratings.
Sport is rooted in society and forms part of SRG's public service mandate.
The federal Swiss wrestling and alpine festival (ESAF):
276 wrestlers will fight in sawdust
65 500 spectators will find seatings in the arena
45 SRG and tpc staff members will produce the world signal
Swiss wrestling: successfully produced by SRG SSR
Our sport engagement in 160 secondes
Sport in all its diversity
In the past few years, we have reported extensively on around 100 different sports on the radio, on television and via online media. Our stations SRF, RTS, RSI and RTR regularly broadcast more than 20 sports live – including popular disciplines such as football, ice hockey, tennis and Alpine skiing. On top of this, we offer a media platform for sports that do not always get a share of the spotlight, such as gymnastics, floorball, volleyball, equestrian sports, athletics and rowing.
In 2022 we broadcast more than 18,600 hours of sport (including repetitions) on television, on the radio and online, including 10,000 hours transmitted live. This marks a rise of 10 % compared to 2021 in terms of overall volume for sport, or in other words: 1,500 hours more sport since 2021. In the same period, live broadcasts increased by 30 %, which corresponds to 2,300 extra hours of live sport.
This service is unmatched by any other free-to-air TV provider in Europe.
SRG has reported on around 100 different sports over the past few years
Productions
We have plenty of expertise in producing major and minor sporting events, which is why we are a reliable partner for filming, recording and broadcasting sporting occasions to an exceptional standard.
Our coverage of events such as the International Lauberhorn Races, the Spengler Cup, the Floorball Superfinals, the CSIO in St. Gallen and the Tour de Suisse attracts a large audience year after year.
SRG's sports programmes offer previews and build-up, analyses, interviews and discussions with studio guests.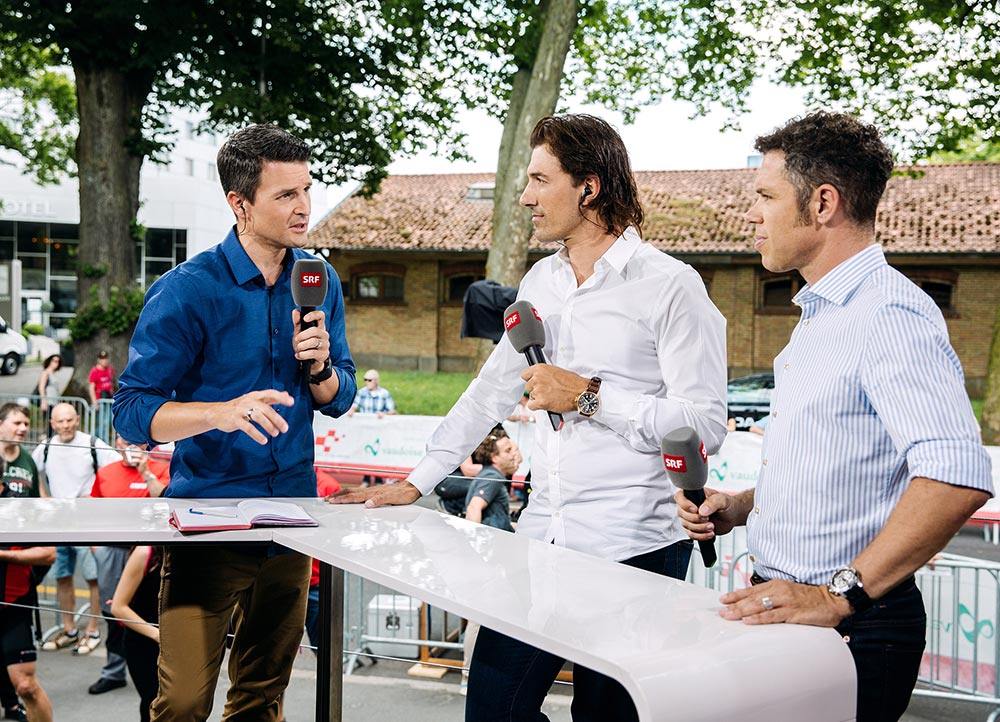 Partnerships
SRG has been producing events such as the Alpine skiing competitions for the Winter Olympics since 2006.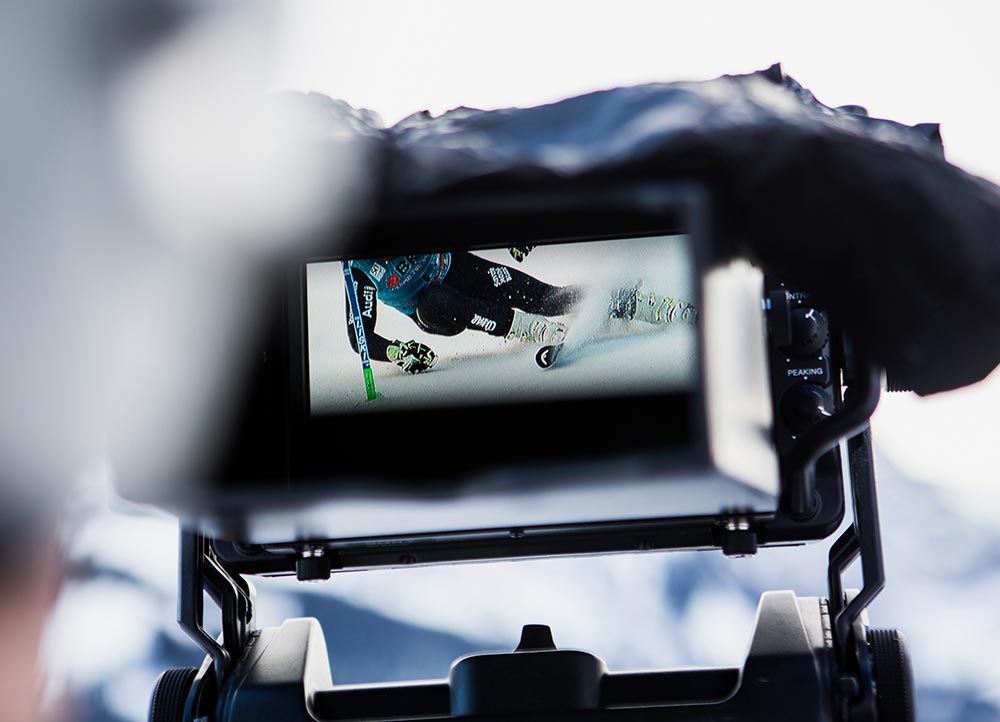 Our partners abroad also value our expertise and the experience we have built up over the years. They commission us to produce coverage of major sporting events to be broadcast to millions of people all over the world.
Since 2006, for example, we have produced the Alpine skiing competitions for the Winter Olympics.
Facts and figures
Audience ratings
Live broadcasts top the list of SRG programmes
FIFA Word Cup 2018 in Russia: Switzerland vs. Brazil
2,26 million viewers across all SRG channels
67,2 % market sharel
UEFA EURO 2016 in France: Switzerland vs. France
2.23 million viewers across all SRG channels
65% market share
2017 Alpine Skiing World Cup in St. Moritz: Men's Downhill: Beat Feuz wins gold
1.3 million viewers on SRF zwei, RTS Deux and RSI LA 2
71.9% market share
Source: Mediapulse Fernsehpanel, Instar Analytics, Switzerland, persons aged three and over, 24 hours (overnight +7), all platforms
Live broadcasts
Lauberhorn Races in Wengen
2 weeks
32 cameras
more than 10 tons of equipment
Tour de Suisse
9 days
4-7 fixed cameras
4 motorcycle cameras
2 helicopters with cameras
1 airplane for broadcast
more than 1500 kilometres covered
Swiss Indoors in Basel
31 matches = 71 hours of production
9 cameras on the Center Court
3 cameras on Court 2
Spengler Cup in Davos
11 games = 30 hours of production
19 cameras and helmet camera for referee
Refinancing rate
TV sports reporting is not profitable in Switzerland, because of its costly and complex production.
Publicity and sponsoring cover only 10 to 20 % of the full costs in terms of rights, production and broadcasting.
Even events such as the Summer or Winter Olympics cannot be funded through advertising.
Lauberhorn races
more than 20 cameras
more than 10 tons of equipment